Remember how I said I kicked it this weekend. . I did!
I made a few blocks. 4 to be exact but after I took the photos of 2 of them, I realized that I put the corners on WRONG. Sigh.
But I will share the two that I pieced together
correctly
:)
I followed the amazing tutorial for the Curved Rail Fence found over
here
.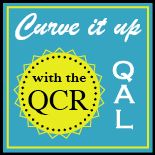 I loved these. They are HUGE blocks when finished. So much fantastic inspiration over at the
flickr group
. I know that I have 2 started but I want a few other color ways in this now.
I worked on another curve project with the
Quick Curved Ruler
, but I'm going to share that with you this weekend or next week during the giveaway week from Sew Mama Sew. I have been kicking it - really really.
What else am I working on?
I'll be working from my works in progress (WIP) list from the 100-day hustle including:
Knitted baby blanket - so slow it hasn't been out the bag in a week
Quilt-top for the friends toddler - halfway quilted. . lalala STILL
Commission quilt - slow but steady
PJ pants for fella - no a lick on this one
Quilt top put together from Block Party - lalalala
Matching sock to a lone sock - what . . what is this?
I'm linking up to Lee over at Freshly Pieced for WIP Wednesday.
♥